We originally got our start in ophthalmology doing LASIK marketing even prior to the founding of Glacial Multimedia Inc. Many things have changed in LASIK marketing over the past 20 years but we have learned a lot. Preparing for a LASIK marketing campaign requires commitment to marketing and keeping a steady pulse on what is happening in your community.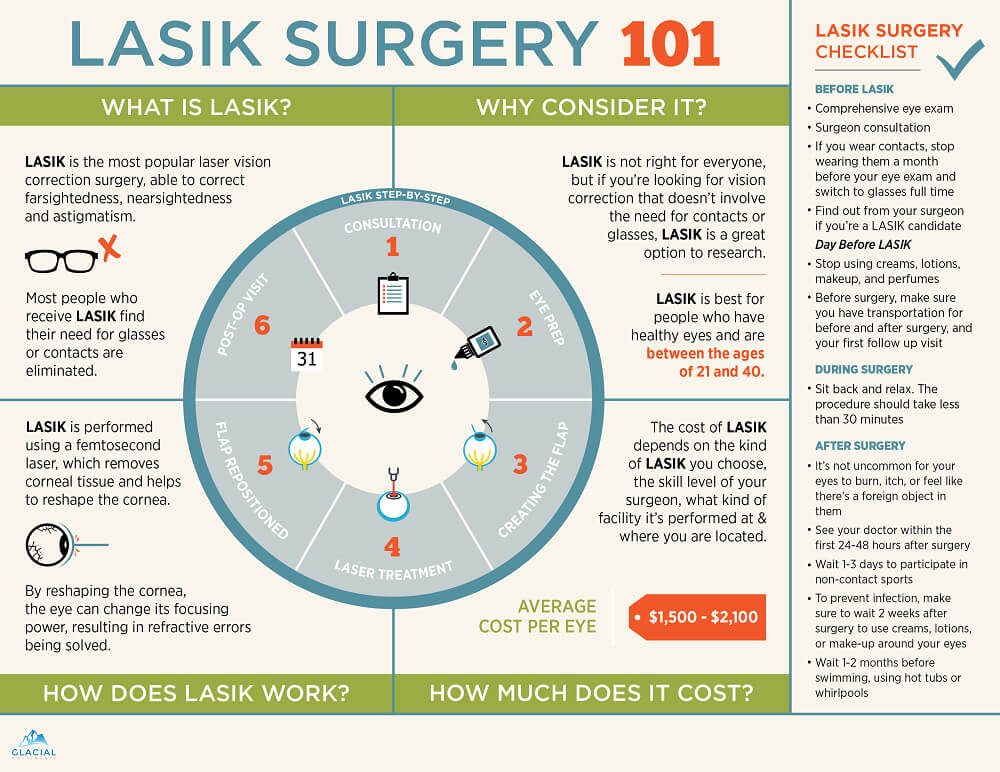 Creating a LASIK marketing value proposition
When doing LASIK marketing, it is important to answer the question of WHY. Why would a patient choose you and your practice over a competitor? LASIK is a very competitive elective surgical procedure and patients' have many options. Many times I will go to a LASIK landing page is this question is not answered. How many procedures has the surgeon performed? What are the practice accolades? Do you have the best technology? How does this technology stack up to the competition?
Why would a patient choose your practice when you tell them you are high Quality?
A well known LASIK marketer once told me – If you need to tell someone you are high quality you are probably not….
A good marketing company or LASIK marketing consultant will help you with these issues. At Glacial Multimedia we have several friends that are marketing consultants and would love to tell you more about them and how we often collaborate to create the best programs.
Let's face it your value proposition is very important and will often be the deciding factor on whether your visitor continues or chooses to hit the back button.
Your Value proposition should:
Speak to the unique value your business provides.
Convey a clear message that says what you can do for the patient.
Makes a clear promise regarding the benefits being delivered.
Preparing a LASIK marketing campaign
Nowadays most practices use digital media more than traditional media for LASIK marketing. Depending on your location this may or may not be a good idea. Please feel free to consult with us about how we would direct this portion of the campaign. We prefer a mix of options for marketing including traditional media but typically swinging heavier on the digital side. Some items to consider would be:
Paid Search Advertising
Search Engine Optimization
Social Media Advertising
Digital Branding
Local Search and Google My Business Profile
Video Advertising
Radio and Television Advertising
Local Newspaper Advertising
How to select media partners?
You will ultimately have to select some media partners like a website design company, a local media buyer, a LASIK consultant, a social media expert, and maybe even a LASIK social media influencer. Make sure to conduct thorough interviews to determine the validity of these partners. Talk with their other clients and review their past work. Having an unexperienced company helping you can turn out like babysitting. If they are constantly asking you how to do things, then you might need a group with more experience.
How do I Choose a LASIK website design company?
Choosing a LASIK website design company can also be challenging. You have several options and there are at least 5 to 6 companies that have a great deal of experience doing this. Check these companies out and review their work. If you like it give them a call and see how they are to work with over the phone.
Does the website company use a proprietary system for CMS or do they have multiple options?
Do you like the designs of their other LASIK websites?
Do they understand ophthalmology?
Do they get excited about your project or is this boring to them?
Are they flexible with design versions or do you extra charges if you make more than one design?
Do they lock you into annual contracts or are they flexible?
Do they have hourly editing options or only a monthly maintenance package?
Are they promising a really low price? Many companies are charging low prices but have very high monthly fees. Is this really what you want?
How many years have they been in business and are they trustworthy enough to finish the project?
Can they fulfill ADA and HIPAA compliancy as it pertains to the website and forms on the website?
Do they understand the liability issues pertaining to PHI on website forms?
Will the accept responsibility for a HIPAA violation and will they sign a BAA agreement required by HIPAA?